---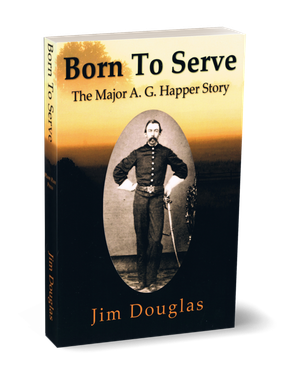 Time now for part four and another thrilling episode from my book Born To Serve, The Major A.G. Happer Story. This time we delve into high finance, big business, scandal, politics and some military. 
The Reed Family
The Reed family is probably the largest of the families we are concerned with in this book. They were very prominent both in Washington County, and Allegheny County. They seemed to specialize in both the medical field and law. Theirs is a particularly intriguing story that has a few surprising twists. I suppose the best place to begin would be at the beginning, so let's start there.
     Dr. Joseph Allison Reed was born in Washington, Pa; December 31, 1823. He was educated at Washington College, and graduated with a Master of Arts degree in 1842. He earned his medical degree at Jefferson Medical College in 1847. He settled in Allegheny Pa (now part of Pittsburgh) with his wife Eliza Hay Reed and their four children, and became especially successful in the treatment of mental disorders. Eliza died in 1858, leaving the Doctor with two small children to raise. In 1860, he married Mary F. Fahnstock. They had four children of their own.
     Owing to his professional success, in 1857 the mental health department of the Western Pennsylvania Hospital was separated from the surgical department. He was asked to take charge of the Dixmont State Hospital, which was in need of someone to oversee the department. He accepted the position and soon placed the institution on a sound financial basis. After seven years as physician-in-charge, he became superintendent of the insane department, and held the position for some twenty-seven years, until his death. Dr. Reed was known all over the country as a leading authority on the treatment and care of the mentally ill. Doctor Reed passed away on November 16, 1884. Two of the Doctor's children from his first wife died very young, but two survived. His son James, is our next subject.
James Hay Reed Esquire
The Honorable James Hay Reed Esquire, is a strong name. Quite fitting for the strong man he was to become. The son of Dr. Reed and Eliza in Allegheny, Pa; and born on September 10, 1853, he didn't possess his father's love of medicine. He was much more interested in his uncle's attraction to law. At the proper time, he attended the Western University of Pennsylvania (now University of Pittsburgh), where he graduated in June of 1872. He went on to study the law under his uncle David Reed, a noted Pittsburgh attorney. He was admitted to the bar in 1875, and soon after joined with his friend and fellow lawyer Philander Chase Knox to form the firm of Knox and Reed. The firm was successful right from the start. Today, they would be called corporate lawyers, for their clients were from the business and corporate world.
     Mr. Reed was married on June 6, 1878, to Katherine J. Aiken, daughter of David Aiken, Jr. of Pittsburgh. They had four children, Joseph Hay Reed, David Aiken Reed, James Hay Reed, Jr., and Katherine Reed.
     By the mid 1880's, Reed had become a trusted adviser and council to many of the movers and shakers in the corporate world in the Pittsburgh area. He was on the board of directors at Gulf Oil Corp; the same positions at Farmers Deposit Savings Bank, Farmers Deposit Trust Co, Fidelity Title and Trust Co, Farmers Deposit National Bank, and President and Board member of the Reliance Insurance Co of Pittsburgh. And if this wasn't enough, on January 1, 1887, Reed became General Council to Andrew Carnegie. Along with that he became President of Bessemer and Lake Erie Railroad, President of the Union Railroad, and board member of Carnegie Steel Co. When the famous Johnstown flood occurred in 1889, it was Reed who represented the South Fork Fishing and Hunting Club. After all, he was a member there.
     The firm of Knox and Reed continued on until February 1891, when he received an appointment by President Benjamin Harrison to be a United States District Judge for Western Pennsylvania, to replace the Hon. Marcus W. Acheson who had been elevated to the Circuit Bench. He was confirmed by the US Senate, and he accepted the position very reluctantly as he had no desire to take his career in that direction. He resigned in less that a year due to "ill health" and resumed his partnership in the old firm. That didn't last long however. When William McKinley became President of the United States in 1897, he asked his old friend Philander Chase Knox to become the US Attorney General. Knox later became Secretary of State, and US Senator from Pennsylvania.
     The old firm of Knox and Reed became Reed, Smith, Shaw, and Beal. At some point, it became Reed, Smith, Shaw, and McClay. The new firm became a real powerhouse. By this time, Reed was, or became, a director of Allegheny Heating Company; president and director of Pittsburgh, Bessemer & Lake Erie Railroad Company; director of California Railway and Power Company; treasurer and trustee of Carnegie Hero Commission; trustee and treasurer of Carnegie Institute and Carnegie Library of Pittsburgh; director of Commerce Housing Commission; chairman of the board of Farmers' Deposit National Bank; director of Farmers' Deposit Trust Company; director of Fidelity Title and Trust Company; director of Gulf Oil Corporation; manager of Kingsley Association; vice-president and director of Philadelphia Company and its associated companies; president and director of Reliance Insurance Company of Pittsburgh; president and director of Union Railroad Company; director of United Railway Investment Company; and director of the Carnegie Pension Fund.
     Reed had become a close friend and attorney for Andrew Carnegie. When Carnegie decided to sell his Carnegie Steel to J. P. Morgan, it was James Hay Reed who handled the transaction that would be known as the largest personal commercial transaction in history, selling Carnegie Steel Company for $480 million (approximately $20 billion in today's dollars) and creating U.S. Steel. Reed had been an original director and investor in Carnegie Steel Company, and owned the second highest majority of shares in the company, about 16%, equal to $76 million (around $2.5 billion today). Reed had a seat, on the board of directors of the new United States Steel Company as well.
Judge Reed was for many years the General Counsel and Vice President of the Pittsburgh and Lake Erie Railroad Company. In 1899 he prepared the charter for the Consolidated Gas Company of Pittsburgh of which he became President. He retired from that position in 1919 but continued his connections with the company as Senior Vice President and Director.
     It wasn't all about the money though. He became a manager of the Western Pennsylvania Hospital for the Insane, and of the Pittsburgh Hospital for Children; and a trustee of the Western University of Pennsylvania (Pitt), the Shadyside Academy, and the Shadyside Presbyterian Church of Pittsburgh. Reed was also one of the founders of the City of Monessen, Pennsylvania, about 30 miles south of Pittsburgh. He continued in practice until his death, in Pittsburgh, in 1927. A Pennsylvania state historical marker marks his birthplace near the Carnegie Science Center on Pittsburgh's North Shore.
He received an honorary Doctorate from Princeton in 1902, and one from the University of Pittsburgh in 1919. Reed's law firm, still exists today, now known as Reed Smith, and is global in scope. With revenues approaching $1 billion, Reed Smith is one of the most powerful firms on the planet.
Major David Aiken Reed
The Hon. David Aiken Reed Esq. was the son of Judge James Hay Reed, born in Pittsburgh on December 21, 1880. He attended Shadyside Academy, a Pittsburgh prep school, where he graduated in 1896. Then it was on to Princeton University, from which he graduated in 1900. He went on to earn his law degree at The University of Pittsburgh, graduating and being admitted to the bar in 1903. He practiced law in his father's firm Reed, Smith, Shaw and McClay from 1903 until 1917. He had married Adele Wilcox on November 12, 1907. They had two children, David Aiken Reed Jr. and Rosamond Reed.
When the United States finally entered the Great War, David Reed entered the U S Army as a Major. Major Reed served overseas in World War I with the 311th Field Artillery participating in the Meuse-Argonne and Verdun offensives. He served as Acting Chief of Staff of the United Section of Inter-Allied Armistice Commission and American representative on Allied Economic Commission. He served as Lieutenant Colonel, Field Artillery Reserve, from 1919 to 1922.
     After the war, he returned to his father's firm, at least for a while. Reed, a Republican, was appointed by Pennsylvania Governor William Sproul to the United States Senate on August 8, 1922, to fill a vacancy created by the death of William Crow. He was subsequently elected on November 7, 1922, to serve for the remainder of Crow's term and a six-year term of his own, beginning in March 1923. He ran for, and was re-elected for a second term in 1928. He ran once again in 1934, but was unsuccessful this time, being a victim of the great Republican Purge.
     Major Reed returned to the practice of law once again, remaining with the firm until his death at his home in Sarasota, Florida on February 10, 1953. He is buried at Arlington National Cemetery with his first wife Adele, who had passed away in 1948.
     There you have it, another interesting connection to Major Happer. As they say in those late night infomercials, "wait, there's more!"  Next time we'll see even more elements of this amazing story. 
J.D. 
---