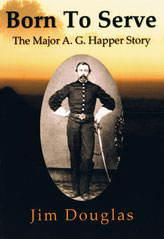 Here's the second installment of some of the interesting side stories from my book, Born To Serve, The Major A. G. Happer Story. 
This episode concerns a descendant of the Major's, a man named John Happer. This particular John Happer was a nephew of Major A. G. Happer. He was from the branch of the family that went west early on.
He was born in Scandia, Kansas in 1892, and went on to marry Mary Hannah Martin and they had five children. He later married Miss Anna Casey in 1929. 
They had moved to the Chicago area by 1930 where John worked as the controller for the Wilson Meat Packing Company. 
     Wilson was starting a new venture in the sporting goods business. What was unusual is that John was a friend of famous Notre Dame football coach Knute Rockne. 
On the morning of March 31, 1931 John Happer and Knute Rockne took off in a small plane, a Fokker F-10-A bound for Los Angles for a business meeting, along with six others. 
The plane lost a wing in mid air and crashed in a pasture near Bazaar, Kansas, killing all aboard. 
     There is a monument standing at the crash site today with the names of all the victims engraved upon it. 
Knute K. Rockne, John Happer, Waldo B. Miller, H. J. Christen, Spencer Goldthwaite, C.A. Robrecht, Robert Fry, Herman J. Mathias. 
On the seventy fifth anniversary of the crash in 2006, the monument was re-dedicated. Among those in attendance was the now eighty-nine year old man who was one of the first to reach the crash in 1931, Easter Heathman, and nine Happer descendants. 
The Wilson company went on to become the famous Wilson Sporting Goods Company we know of today. 
This is just one of the many interesting stories connected to Major A. G. Happer that I came across by accident while researching the book. 
Stay tuned for more, and even more incredible historical stories connected with the A. G. Happer family. You won't believe what comes next.  
---