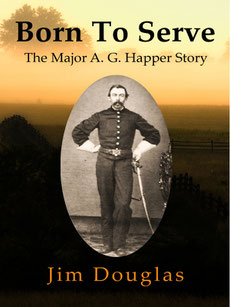 I thought it may be interesting to some to get an idea of what my book Born To Serve is all about. It is really three books in one. 
The first part is the background of what makes the title, Born To Serve relevant. The second part is the meat of the story, the war years of Major Happer.
Finally, there is so much to the story, I felt people would be interested in learning about what happened to the people later. Kind of borrowed from the great Paul Harvey's, The Rest of the Story.
So every so often, I will share a glimpse into this fascinating extended family of Major A. G. Happer. The first one deals with the Major's wife Matilda Morgan Watson Happer. This shows what kind of people the Happers were & also illustrates why they are forgotten in their own town today. So, bear with me as I take you all down this rabbit hole with me.  
     Tilly was devastated with the Major's passing in 1915. Her family was a great help through this depressing time. Her nine brothers and sisters along with the rest of the enormous family, helped her cope with the loss. 
She never remarried, and continued to live in the home the Major built for her for the next twenty years with her cook Mary Washington and her driver Leroy Lewis. She continued to receive half the proceeds from the insurance 
and real estate business, so she had no major financial problems to worry about, even during the great depression. 
     Tilly passed away at her home on February first, 1935 at the ripe old age of 86. She had been ill for two weeks then suffered a heart attack and the following day suffered another one. 
The obituary written in the Washington Observer perhaps says it best:
     "Mrs. Happer's entire life was spent in Washington, where her interest in public and charitable organizations and work remained high throughout her long life. She was known for her many acts of charity and kindness, carried out in such a quiet way that the public never knew of them. Her interest in her church, the First Presbyterian and it's auxiliaries, Washington Hospital, Washington & Jefferson College, Y.W.C.A., and all local benevolent and charitable organizations remained with her up to the very last. Mrs. Happer's interest in music was well known and she had heard all of the noted singers of her day. She was deeply interested in young musicians and artists, and helped many of them." 
      She was a great granddaughter of Revolutionary war figure Colonel George Morgan, and the daughter of prominent attorney James Watson. Tilly had been very active in church affairs and other civic philanthropies. 
She was laid to rest beside her husband in the family plot in Washington Cemetery. Since the Happers had no children to leave to leave their worldly goods to, Tilly bequeathed the estate out to a number of close family members, with two exceptions. She left her driver Leroy Lewis $200. It doesn't sound like much by today's standards, but in 1935 that was a lot of money. She also set up a trust fund at the Citizens National Bank (which her husband had founded) in the amount of $2000.00 to be invested and the proceeds to be paid in the amount of $10.00 per week to her cook, Mary Washington every week for the rest of her life. Thus providing lifetime income for her longtime friend. Again, $40 a month was nice money back then when many folks were out of work and going hungry. The Happers had always been generous, even when no one was looking.  
     Andrew and Tilly's beautiful Victorian home made of "Cleveland stone," became a funeral parlor. After that it was a bed and breakfast for a while. The good news is, it survives today as the Admissions Office for Washington and Jefferson College. 
The exterior remains pretty much the same, but the interior has been almost completely changed except for the magnificent winding oak staircase with breathtaking stained glass windows. Even with five years of diligent searching, I have never been able to find a picture of Matilda Happer.   
---